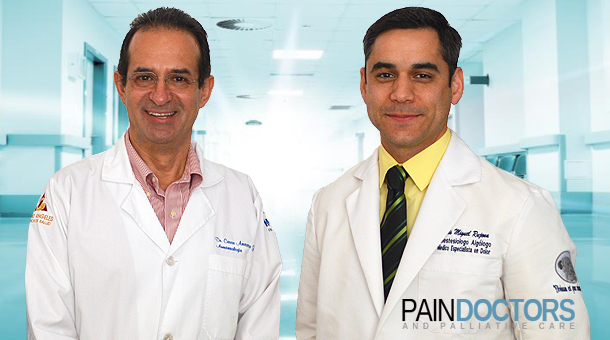 Our Pain Management Specialists
The department is directed by anesthesiologists who are board-certified in pain management and are dedicated to the goal of helping people with chronic pain return to a normal, productive lifestyle.
Using the latest in diagnostic technology, paired with medical and interventional therapeutics, they will work with you to identify the source of your pain, eliminate or reduce the pain and teach you to manage it.
Our pain management specialists use a number of techniques to diagnose and treat pain disorders. Pain evaluations often include taking a personal and family medical history, assessing the patient's lifestyle (e.g., activity level), reviewing prior tests (e.g., blood tests, imaging tests, electrodiagnostic studies), and performing a physical examination.
Hospital Angeles Tijuana Pain Management specialists are among the most experienced in the country, treating thousands of patients each year. That is why they devote themselves to:
Determining the cause of your pain through advanced diagnostic tests.
Easing or eliminating pain using state-of-the-art medical and interventional treatments.
Improving functional capabilities through aggressive, personalized physical therapy programs.
Teaching skills that will make coping with pain easier and will help you regain control of your body and your life.
Due to the highly specialized nature of our department, we are able to offer patients the latest, most effective treatments for pain.