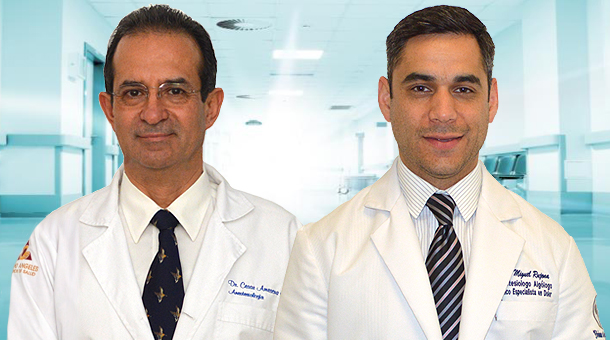 Our Pain Management Physicians
Our Pain Management physicians have specialized education and are board-certified in Anesthesiology and Pain Management. They are frequently requested as speakers for medical meetings and write articles on conditions seen and treatments performed in the field of Pain Management.
Hospital Angeles Tijuana Department of Pain Management takes an interdisciplinary team approach to the evaluation and treatment of your pain.
Chronic, or lasting pain, touches every aspect of our lives. Without chronic pain management we cannot fully work, move about or enjoy life. Sudden pain that comes from an illness or injury can be just as disruptive and devastating.
Hospital Angeles Tijuana offers comprehensive pain management services with many methods to help bring pain under control and manage the side effects of treatment. Our chronic pain management program is multidisciplinary, with many options for treatment.
The guiding principle of our pain management doctors is that by relieving pain early in its cycle, side effects that make pain worse and curb activities can be limited. Early intervention also lets patients become more active and avoid some of the deconditioning effects that worsen health, and the psychological complications of unremitting pain.
Our ongoing continuing education keeps pain management doctors and professionals up to date on new pain management developments, and makes the entire hospital community aware of the many options for treating severe pain.